The Backbone of Kypeco's MES: Enterprise-Level Cloud Architecture
Modern Manufacturing demands more than just automation. It requires an ecosystem where data can be collected, analyzed, and acted upon in real-time. Kypeco's MES is built upon an enterprise-grade cloud architecture that not only provides this ecosystem but does so with scalability, robustness, and security at its core.
Scalability and Flexibility with Cloud-Native Infrastructure
Kypeco's cloud-native infrastructure ensures that the MES can scale on-demand. Whether you're expanding your manufacturing line or handling seasonal spikes, the system adapts without skipping a beat. This level of scalability ensures continuous improvement and adaptability, essential elements for modern manufacturing environments.
Fortified Security: Building Trust and Reliability
Security in a manufacturing environment is paramount. Kypeco understands this and has fortified its MES with enterprise-level security. The ISO-certified software ensures data privacy and robust security measures, safeguarding critical manufacturing data. Moreover, the Zero-Trust integration ensures that only authorized users and machines have access, which is crucial in maintaining a secure environment. This builds immense trust among users, as they are assured that their data and operations are shielded from potential threats.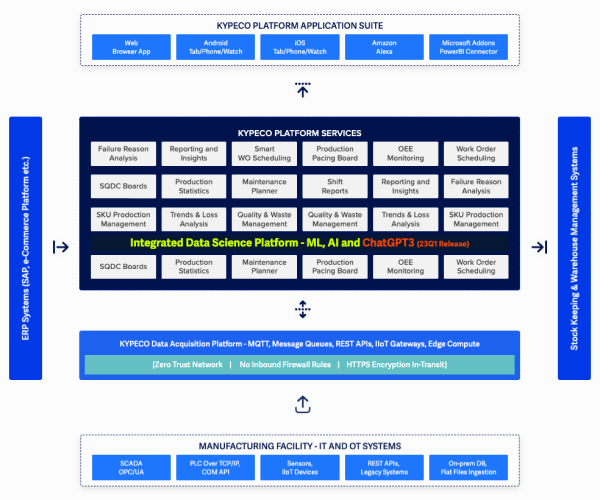 The Power of Big Data and AI
With an enterprise architecture built on modern cloud platforms, Kypeco's MES harnesses the power of Big Data engineering and AI. The system can process massive volumes of data at lightning-fast speeds. This allows for real-time monitoring, predictive maintenance, and actionable insights which are critical in making informed decisions.
Ensuring High Availability and Geo Redundancy
Kypeco's MES ensures high availability and geo-redundancy. By hosting resources and data in a multi-region, multi-cloud environment, the system guarantees maximum uptime. This level of reliability is critical for manufacturing operations, where downtime can have significant consequences.
User's Choice: Select Your Preferred Cloud Provider
Kypeco gives you the freedom to choose where your data resides by allowing you to select from supported cloud providers including Amazon Web Services, Microsoft Azure, and Google Cloud Platform. This ensures you have complete control and ownership of your data, and can leverage the best features from your chosen cloud provider.
Seamless Integration: The Plug-and-Play Paradigm
A vital aspect of Kypeco's cloud architecture is its ability to seamlessly integrate with existing systems. This is achieved through open API and microservices technology, which enable the MES to connect with ERP systems, on-premise databases, and more, ensuring a unified manufacturing environment.
Why us?
If Else Cloud's Manufacturing Execution System stands as a beacon of what modern manufacturing should strive for. With its enterprise-level cloud architecture, it offers an unrivaled combination of scalability, security, performance, and reliability. This not only streamlines manufacturing processes but also earns the trust of those who use it. Kypeco is the answer for manufacturers seeking a robust, secure, and high-performing MES solution. Embrace the future with Kypeco.
Agile Manufacturing Software Solution for Industry 4.0
Centralized reports with ML & AI
Enterprise Manufacturing Software Architecture
Unified Digital Manufacturing Hub for Modern Industry Teams
Empowering Modern Manufacturing: The Enterprise Cloud Architecture Prowess of If Else Cloud's MES
In the dynamically evolving landscape of manufacturing, seamless integration of innovative technology is quintessential. This is where Kypeco's Manufacturing Execution System (MES), built on an enterprise-grade cloud architecture, takes the lead by offering a plethora of features such as real-time monitoring, automated reporting, customizable dashboards, and robust security.
Powering Through Cloud Native Infrastructure
At the core of Kypeco's MES is its cloud-native infrastructure which provides an unparallel scalability, flexibility, and cost-effectiveness. It's future-proof, with over 50 plug-n-play integrations, ensuring that the MES seamlessly adapts to your existing systems. The modern cloud infrastructure is sourced from leading Cloud Service Providers globally, allowing Kypeco to guarantee high availability, geo-redundancy, and no CSP lock-in. This not only ensures maximum uptime but also gives you ownership and control over your data.
Select Your Preferred Cloud Provider
Kypeco understands the importance of security, reliability, and scalability. That's why it has partnered with modern cloud providers like AWS, Microsoft Azure, and Google Cloud. These providers offer geo-redundancy, disaster recovery, and high availability, ensuring a seamless operation that you can trust.
ISO-Certified Enterprise-Level Security
Kypeco is built on modern enterprise-grade cloud architecture that conforms to ISO standards, specifically ISO 27001:2013 and ISO 27017:2015. This ensures a higher performance with robust security, data privacy, and protection. The Zero-Trust integration further guarantees that only authorized users and machines can access sensitive data. Moreover, data encryption, access controls, and an isolated environment protect sensitive manufacturing data, making it a favorite for IT and OT teams alike.
Streamlining Data Acquisition
The user-friendly interface of Kypeco's MES makes data acquisition effortless, minimizing manual input errors. Advanced processing capabilities and optimized workflows enable lightning-fast data analysis, providing real-time actionable insights that are critical for manufacturing excellence.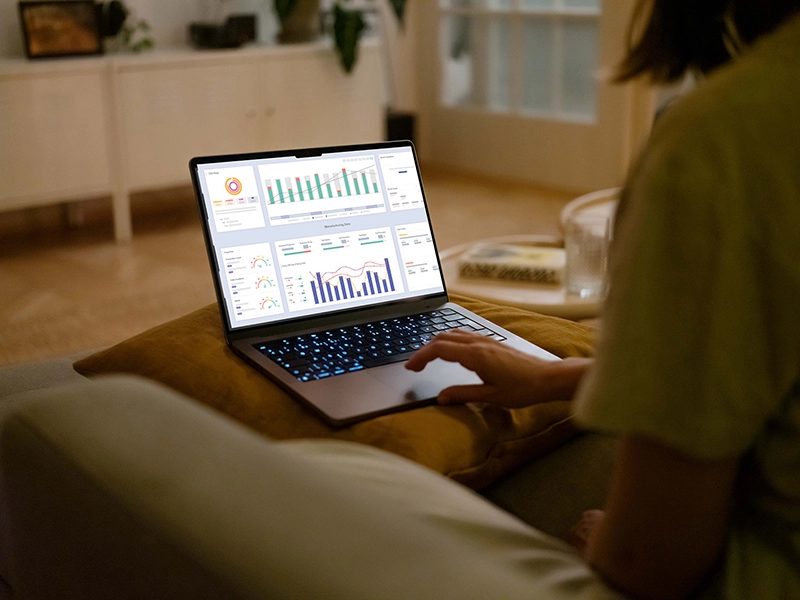 Bridging the Gap with Modern Cloud Connectivity
Open API and Microservices technology in Kypeco's MES allow it to connect with any solution. Lightweight cloud services handle the heavy lifting of data science. The Enterprise MES Architecture serves as a bridge between IT and OT in manufacturing. With 30+ total dashboards, 5+ production board dashboards, 5+ job schedulers, and 3+ maintenance tasks organizers, it serves as an all-in-one Manufacturing Execution System, reducing IT overhead and legacy applications.
Communication Protocols and Modern Data Management Layer
Kypeco implements modern communication protocols such as REST and MQTT for improved connectivity and seamless data exchange. The integration of an IIoT layer further enhances data management and analysis.
Embracing the Future with Generative AI
Kypeco's MES is powered by Big Data Engineering and Data Science, including Machine Learning (ML) and Artificial Intelligence (AI). This unleashes the potential of Smart Manufacturing, enabling Industrial Transformation (IX).
Ensuring Business Continuity with Redundancy and Failover Protection
Kypeco's MES is designed for peak performance, with a modern Kubernetes platform. Geo-redundancy protects against region-wide outages with 2 hot + 1 cold environment. It offers the option to select your preferred Cloud Service Providers (CSP) and control your data, ensuring an isolated environment and failover protection.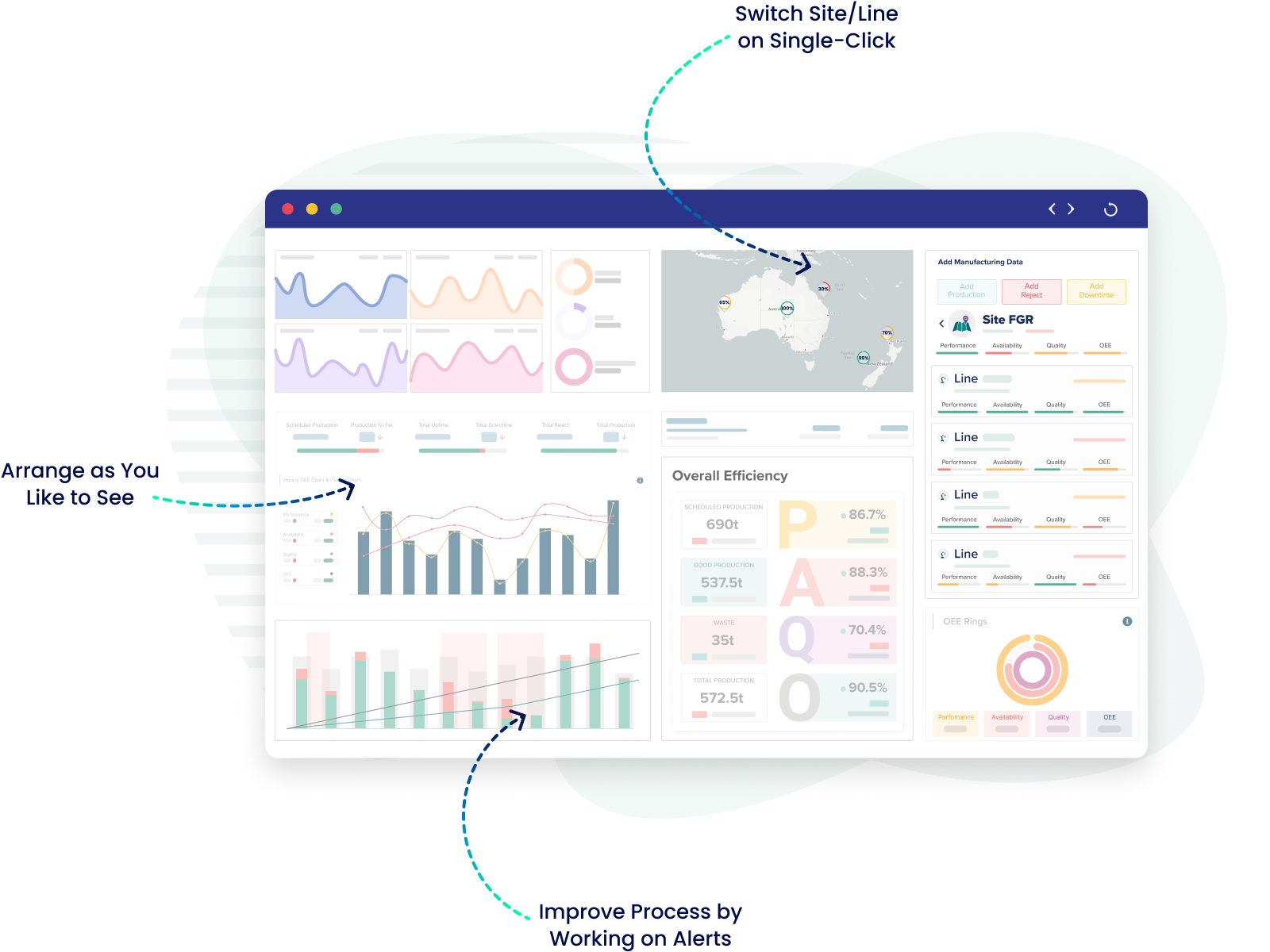 Wrapping It Up: The Convergence of Intelligence and Innovation
If Else Cloud's MES is a masterstroke in modern manufacturing, where enterprise technology architecture blends with cutting-edge solutions. With its powerful features, including scalability, robust security, high performance, and advanced analytics, it is not only optimized for today's challenges but is also future-proof, ready for the challenges and opportunities that lie ahead in the ever-evolving manufacturing domain. Experience manufacturing excellence with our modern MES, where what really matters is your manufacturing success.